Doggy Daycare
Doggy Daycare
The Maple Hills Doggy Daycare is a large indoor dog daycare open on Weekdays from 8am-6pm. Situated inside Maple Hills Veterinary Hospital, our daycare offers your dog the opportunity to run and play with similar sized dogs in a safe, fully staffed, climate-controlled environment.
Benefits of Doggy Daycare:
1) Relieves Boredom & Separation Anxiety
One of the primary reasons that dogs can develop destructive behaviors is boredom or separation anxiety. If a dog is left by himself for several hours a day during the work week, he may become exceedingly bored or overly anxious, either way, this can manifest into a wide variety of destructive behaviors such as chewing, excessive barking or howling, and even accidents. A great daycare situation will offer healthy stimulation preventing these behaviors.
2) Exercise
One of the major benefits of sending your dog to daycare is that he or she will get exercise daily which is so important for your dog's overall health. A dog who has been active and well-cared for throughout the day will naturally get tired. When a dog is tired, he tends to be more content which in turn, makes you, the owner happy as well.
3) Attention & Socialization
Having your dog around other dogs as well as other humans is a great means of providing socialization for him. This can be a great tool in training a dog to remain calm in a variety of situations. Sending your dog to daycare will provide him with the loving attention and affection that dogs need on a regular basis.
4) Peace of mind
You will enjoy peace of mind knowing that your dog is being well-cared for while you are at work, eliminating the guilt you may have felt while he was home alone for so many hours at a time.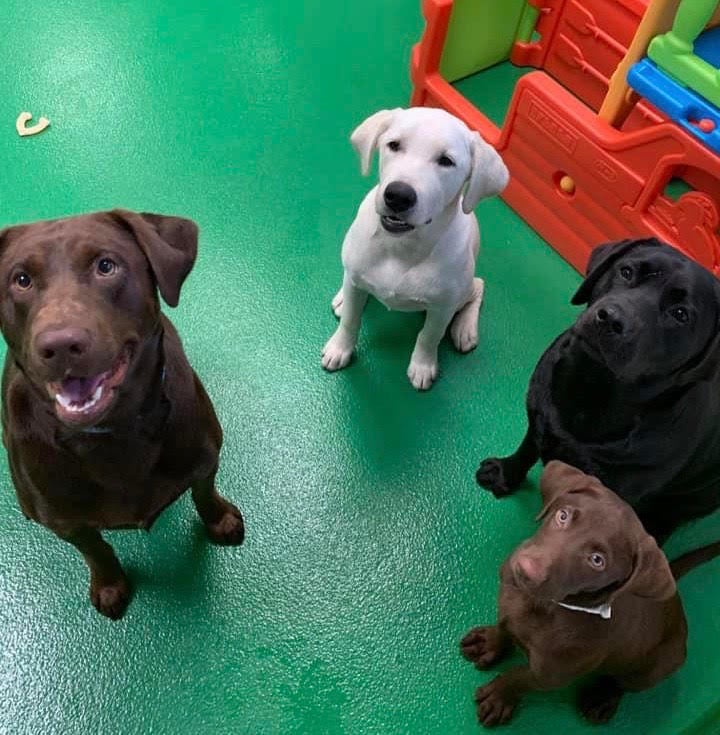 "Super nice and helpful staff. Great value with daycare/overnight." Mitchell L.
Daily Rates
Full Day Daycare
(6+ hours) $29.00
Half Day Daycare
(under 6 hours) $19.00
Packages
Full Day Package
10 days + 1 free day: $290.00
Half Day Package
10 days + 1 free day: $190.00
Spa Day
Includes half-day Doggy Daycare plus a bath
Small/Medium Dogs $39.00
Large/X-Large Dogs $49.00