Moving With Your Pet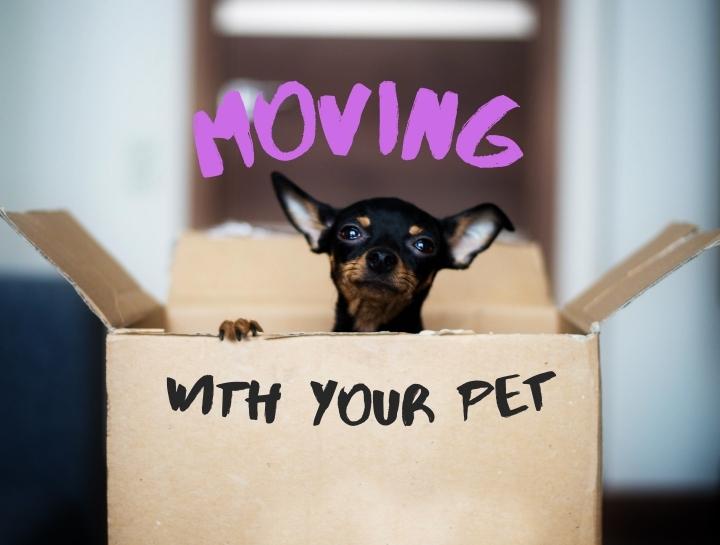 September 10, 2023
We know how stressful adjusting to a new home can be – not just for your two-legged family members, but for your four-legged ones, too!
Help make your pets feel a little more at home in your new place with these helpful tips.
1. Make sure your pet has proper identification. In addition to standard collars that may come off or get lost, consider getting your pets microchipped. The permanent ID option is as easy and painless as a vaccination and greatly increases your chances of reuniting with a lost pet. If your pet is already microchipped, be sure to update the microchip database with your new address information.
2. Keep your schedule consistent. Pets are creatures of habit, so maintaining your regular routine will help make things feel a little more normal. Sticking to your usual times for walks, meals, cuddle time, and bedtime can help your best friend adjust.
3. Pet-proof your house. Did you know that certain plants and food can be toxic to pets? Common household items like cleaning products and medications can also pose a threat. Especially in a new environment, curious pets can get into household hazards. Be sure to store these in areas that are inaccessible to your furry friends.
4. Set up a comforting space for your pet. Moving is stressful and scary for pets. When you arrive at your new home, set up a quiet space away from the hustle of the movers with your pet's most comforting items. Place items like their bed, blanket, favorite toys, food, and water in the designated quiet space so they know they have a safe, comfortable place to stay in their new home. Although you will be busy unpacking and setting up your new home, visit them often as you provide the most comfort and reassurance for them.
5. Be loving and patient. The best way to make pets feel comfortable in a new home is to associate positive experiences with it. Remember to be patient with them and give them lots of affection and treats and you will have plenty of new, happy memories in no time. You can also take advantage of calming pet products like pheromone diffusers and collars, thundershirts, and composure treats to help them feel at ease.
6. Get to know your veterinarian. Bringing your pets to the veterinarian for a routine exam is the smartest and easiest way to keep them healthy. If your pet is not feeling well or is having trouble adjusting to their new home, we're here to help! Call us at (610) 395-3743 so we can schedule a visit and discuss the best options for your pet.
Your New Vet
If you are new to the area, we would love to be considered as your new veterinary practice and we can help make that transition easier! In between unpacking and organizing, give your old veterinarian a call and request your pet's records be emailed to maplehillsvethos@yourvetdoc.com. Please request that they include "new client" in the subject line.
We wish you and your pets the best during your move and hope to see you soon. Call (610) 395-3743 to book your appointment today!