Pet Cancer Awareness Month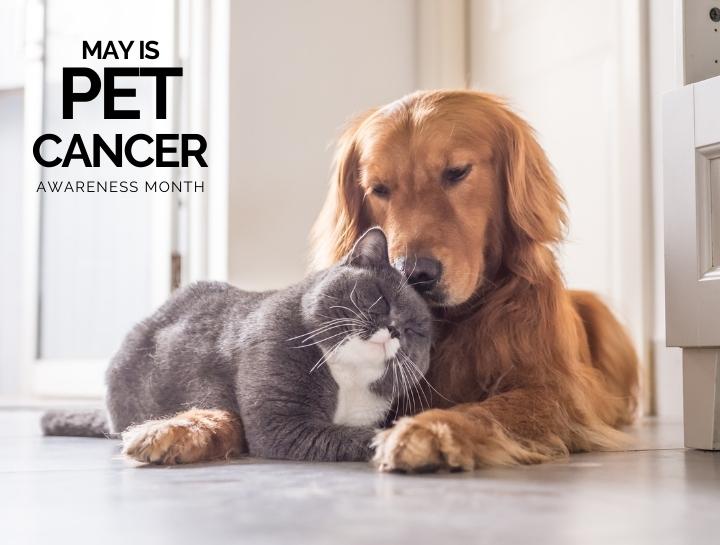 May 19, 2023
The month of May is designated as Pet Cancer Awareness Month. The goal of this month is to help pet owners understand the risks, symptoms, and treatments available for cancer in dogs and cats. By understanding and being aware of the potential for cancer in your pet, you may be able to help your pet or even save their life.
Knowing the Signs
There are many different types of cancer and each one has its own set of symptoms. There are some general signs to look out for to know when to consult with your veterinarian including:
Lumps on or under the skin
Frequent cough
Lethargy
Sudden weight loss
Loss of appetite
Repeated vomiting/diarrhea
Swollen lymph nodes
Blood in stool or urine
These symptoms are present in other diseases, so it's important to have your pet checked by your veterinarian for an accurate diagnosis.
What Can You Do?
Staying informed, spreading awareness, and taking steps to ensure your pet is happy and healthy are great ways to contribute to Pet Cancer Awareness Month!
Stay Informed & Spread Awareness
Learn more about the different forms of pet cancer. Reach out to us if you would like additional information and resources. Pass information and resources along to other pet owners to help spread awareness.
Give Your Pet A Health Check
Check your pet regularly at home for lumps, bumps, or any other abnormalities, and call us immediately if you suspect something is wrong. Be sure to schedule your routine wellness exams and go over any concerns with your veterinarian.
Call (610) 395-3743 today to schedule your routine wellness exam for your pet!